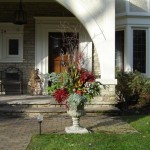 Winter Urns & Planter Displays
Don't let the entrance to your property feel cold and uninviting.  We can help you warm up your space with a beautiful urn.
Seasonal Urns & Planter Displays
It's the season to be festive and we can help your property warm hearts throughout the holiday season and beyond.
Snow Removal Services
Our team can help keep your property in tip top shape over the winter with plowing, snow blowing, and shoveling, sand and salt services.