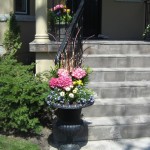 Spring Urns & Planter Displays
Showcase the hottest colours of the season on your property by having one of our team members plant and maintain your urns.
Whether it's a flower bed, a planter, or even a hanging basket, we will enhance your space and ensure that everything we plant is well cared for with soil enhancement.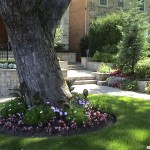 Landscape Installation 
Our team can help reinvent your property by removing old trees, shrubs, perennials, and by planting new garden elements.
Event Preparation 
We understand that special days require special preparation. Whether you wish additional service or re-scheduled service Pagoda can help for that special day.
Tree & Shrub Care
We want to ensure that your landscape investments grow to their full potential so we work hard to ensure that your trees and shrubs are properly trimmed and fertilized throughout the growing season.
Soil Enhancement
To ensure that your plants grow to their full potential, we can rejuvenate your property with: triple mix, manure, peat moss, sand, and lime.
Insect and Disease Controls 
One of our team members can inspect and assess trees, shrubs & perennials & apply the materials as appropriate to ensure that your property is pest free.